A Sneak Peek at the Lovely Lattice Sale-A-Bration set

Stay home and shop Stampin' Up! Year-End Closeouts on-line

Stamparatus Bag now available for customers to purchase
Stampin' Up! Lovely Lattice Stamp Set
Today's card is a sneak peek at one of the free selections from the Sale-A-Bration brochure customers will be able to select with a $50 order beginning January 3. Demonstrators can order early so we have time to showcase these new products and make samples for our classes before they are generally available.
The Stampin' Up! Lovely Lattice stamp set was one I almost passed up in the Sale-A-Bration selection brochure. I'm so glad I added it to my order at the last minute before I hit the "order" button. I'm working on Thank You cards for after Christmas, and decided to play with this set . Wow! I love stamp sets that are fast and easy to use. This card came together in a matter of minutes. I was so tempted to add embellishments or a ribbon, which I'll probably try in a later card, but I'm so pleased with the simple look of this card I'm glad I didn't add anything.
This card used the sentiment from Butterfly Gala. The main image is the from the Lovely Lattice Stamp set.
Cardstock is Crumb Cake. Ink is Night of Navy. So very simple, you'll have your after-Christmas Thank You cards stamped in the blink of an eye. This is a great card if you're a new stamper since it uses limited supplies. I can't wait to try coloring this stamp set with blends or colored pencils.
Recipe
Stamps: Lovely Lattice, Butterfly Gala (Sentiment) Both available Jan 3
Paper: Crumb Cake, Night of Navy
Ink: Night of Navy
Accessories: None, But a simple ribbon of Night of Navy or Crumb Cake Classic Weave Ribbon would easily step up the look of this card, if you're looking for more punch.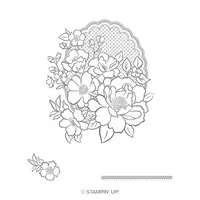 Stretch your Holiday dollars with Year-End Closeouts
We all love year-end bargains. Stretch your holiday gift money by purchasing discounted merchandise now, while supplies last. This is also a great time to pick up your retiring favorites from the Holiday catalog that will go away January 2.
New Craft & Carry Stamparatus Bag
Make your stamping mobile with the new Craft & Carry Stamparatus Bag, specially designed just for the Stamparatus. This carrying bag is a stamper's dream. A quality bag sized perfectly to fit the Stamparatus tool plus pockets for your extra Stamparatus plates and accessories. You won't find this in any of the current products, but you can order it now. Item 149695, US$29.00.
Quick Links
Stampin' Up! Independent Demonstrator